Product overview

---
- The actual measurement of the product is better than GB and IEC standards, CE, RoHS and KEMA certification
- More than 50 countries and regions around the world run verification of high reliability
- It is mainly used in 20KV distribution network, power supply and distribution system of industrial and mining enterprises and civil buildings
- Products are mainly sold 12598 sets to Spain, Germany, France, Italy, Greece, Iceland, Finland, Albania and other European countries, OEM/ODM services
- Executive standard: IEC 60076 series, IEC 6013, IEC 60214-1, IEC 60296;GB1094-1996, GB/T6451-2008, GB/T7597-2007, etc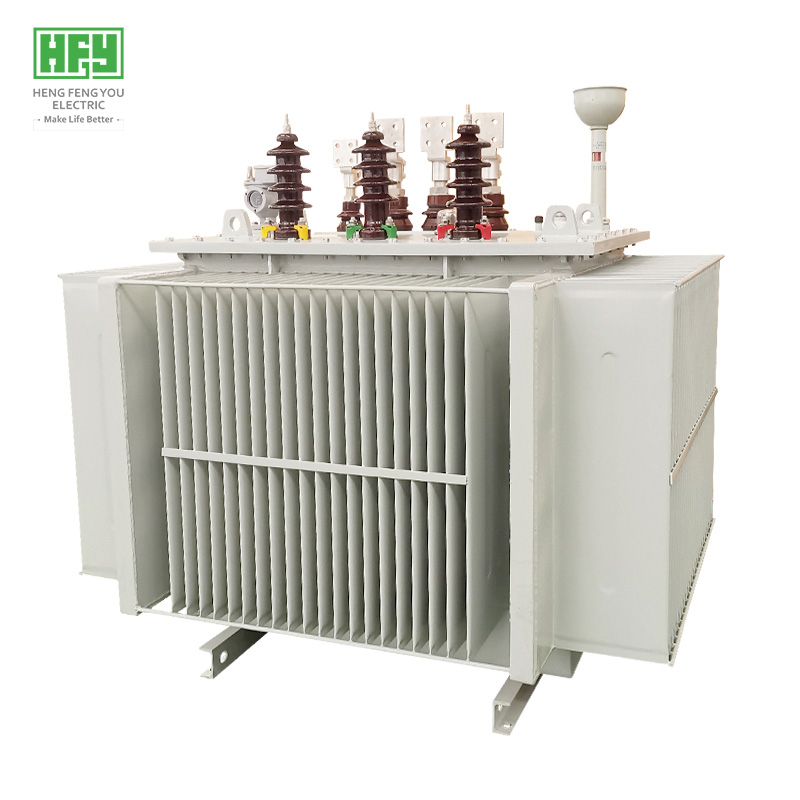 Product advantage
---
> Leading technology
- High voltage copper strip winding technology, improve lightning resistance
- Low voltage copper foil winding technology, high quality A class insulation material insulation
- Small magnetic leakage, high mechanical strength, strong resistance to short circuit
- Core 45° fully oblique joint stepping laminated structure

> The shell
- Japanese mitsubishi laser cutting machine and numerical control punching, reducing, folding and other equipment to ensure the accuracy of processing
- ABB robot automatic welding, laser detection, to avoid leakage, pass rate of 99.99998%
- Electrostatic plastic spray treatment, 50 years do not take off the paint (coating corrosion resistance within 100h, hardness ≥0.4)
- Sealed structure, maintenance-free, normal operation life of more than 30 years

> The iron core
- The iron core is made of high quality cold-rolled grain oriented silicon steel sheet with mineral oxide insulation (from Baosteel and WISCO of China).
- By controlling the cutting and stacking process of silicon steel sheet, the loss level, no-load current and noise can be minimized
- The iron core is specially reinforced to ensure the structure of the transformer is firm during normal operation and transportation

> Winding
- The low voltage winding is made of high quality copper foil with excellent insulation resistance
- The high-voltage winding is usually wound with insulated copper wire, using the technology patented by hengfengyou electric
- It has very good ability to bear radial stress caused by short circuit

> High quality material
- Baosteel and WISCO produce silicon steel sheets
- China's high quality oxygen free copper
- CNPC (Kunlun Petroleum) High quality transformer oil (25#)

> Other Notes
- The low voltage outlet terminal is tin-plated copper bar
- High voltage outlet terminals are ring - type tin-plated bolts
- Default no load regulation (can be customized load regulation) tap switch 5 or 7 adjustment
- Transformers above 630KVA are equipped with gas relay protection

> Patent technology
- Thanks to the patented technology of "ultra-low loss energy-saving power transformer" of Hengfengyou Electric, the material can be saved by 5%, and the loss of the transformer can be reduced by 10-20% compared with similar products in the market, which is more energy saving and environmental protection.





Conditions of use
---
- Altitude less than 1000m, air temperature -25℃~40℃, humidity less than 90% (+25℃)
- The vertical incline should not exceed 5°, there is no severe vibration place, and the outdoor wind speed should not exceed 35m/s
- No gas or conductive dust that seriously affects the insulation of the transformer;No explosion hazard, no corrosion of electrical components
- If the above normal operating conditions are exceeded, customers can customize the solution with our company


Roduct parameters
---
- Input voltage: 20kV 22kv
-
Output voltage: 0.4/0.415kv
-
Capacity: 50-5000 kva
-
Frequency: 50/60hz
-
Remark: voltage, capacity, frequency, connection group and loss can be customized according to customer requirements
Ordering instructions
---
-
Main parameters of transformer (voltage, capacity, loss and other main parameters)
- Transformer use environment (altitude, temperature, humidity, place, etc.)
- Other customized requirements (tap switch, color, oil pillow, etc.)
- The minimum order quantity is 1 set, global delivery within 7 days
- The normal delivery period is 30 days, with fast delivery worldwide
Our advantages
---
- Authoritative certification: ISO, ANSI, CB, etc
-
Perfect SQA quality management system and patented technology to ensure high quality products
-
Efficient production equipment and low raw material prices to ensure the price advantage
-
Sufficient inventory, short delivery time and fast delivery worldwide
-
Perfect after-sales service system, allowing customers to buy worry-free
-
Provide OEM/ODM services. Welcome clients to visit our factory.