Company profile
Smart Electric Global Service Provider, Make Life Better!
HENGFENGYOU ELECTRIC GROUP, is an electrical enterprise with transmission and distribution industry as its main business, integrating product research and development, manufacturing and trade. Designated suppliers for the world's top 500 enterprises .Its main products include power transformers, medium and low voltage switchgear, distribution panel ,circuit breakers, transmission tower ,Cable and other power distribution equipment .The group has five department: Transformer department, Panel department, power transmission tower department, cable department and electrical engineering department. HENGFENGYOU ELECTRIC GROUP has been working hard to provide the best transmission, distribution solutions for users all over the world.
Key figures:
·Since: 1990
·Revenue in 2018: 635 million yuan
·550 employees and 30 Electrical Engineers
·6 production sites in China
·6% of revenue is invested in R &D

Power distribution solutions that drive the global energy transition
With energy demand expanding in both developed and emerging countries, the challenge for HENGFENGYOU ELECTRIC GROUP is to connect energy with people. The group's teams work as closely as possible with projects and decision makers and design and propose technical and process solutions based on global user needs.

·The team energy
The HENGFENGYOU ELECTRIC team achieves synergy within the team to develop and produce specific solutions that meet all customer needs.
Our equipment is designed and researched by R&D services according to each country's electrical standards and helps manage your distribution network for optimal efficiency.
HENGFENGYOU's state-of-the-art production workshop and production equipment will produce high quality products according to your specifications.
HENGFENGYOU ELECTRIC GROUP has a certified quality control laboratory where electrical products are tested out of factory to ensure the reliability and optimal life of our products.

·Business area
HENGFENGYOU ELECTRIC GROUP designs, manufactures and sells global solutions and equipment for public utilities and private medium and low voltage distribution networks.
Hengfengyou Electric Group's business area is global power distribution equipment demand, fully meet the different power distribution equipment demand of more than 50 countries around the world.

· Innovative development
For more than 30 years, HENGFENGYOU ELECTRIC GROUP has been designing innovative power distribution solutions to improve network security, optimize facility efficiency and become more environmentally friendly.
HENGFENGYOU ELECTRIC GROUP constantly innovates and develops new products, and is committed to energy transformation and digitalization for all.
Every year, HENGFENGYOU ELECTRIC GROUP spends 6% of its revenue on research and development and innovation of energy saving development of distribution transformers; Intellectualization of distribution boards and substations; Research, development and improvement of transmission tower and cable materials. The R&D division has more than 30 engineers and technicians dedicated to designing and deploying new electrical solutions. Continuously meet the global demand for energy saving and intelligent electrical.
Qingdao International academician port Qingdao MINGSI is introduced as the strategic partner of Technology Co., Ltd. to provide smart power consumption solutions for global users. Through the intelligent monitoring of the Internet of things system, it can realize the remote monitoring, early warning, control and management of enterprise power transmission and distribution equipment and power consumption equipment, and finally achieve the goal of reducing fire accidents, reducing operating costs, and improving enterprise management efficiency.

· Grow business with HENGFENGYOU
Our goal is to become the world's leading manufacturer of electrical equipment. The business, experience and technology accumulated over the years have benefited customers in more than 50 countries around the world. Once our customers establish a cooperative relationship, they are long-term trusted customers, because HENGFENGYOU ELECTRIC GROUP always insists on providing you with our best electrical products and services.


Development
After 30 years of rapid economic development in China, HENGFENGYOU ELECTRIC GROUP has become the largest R & D and manufacturing base of low-voltage and medium voltage transmission and distribution equipment in China. At present, Hengfengyou has 40 senior technicians, more than 550 employees, and a perfect sales and service system. Its annual output value is 120 million US dollars, and its products sell well at home and abroad. The company always adhere to focus on the technical force and modern enterprise management team as the basis, strict implementation of ISO9001 quality management system .CB international electrician certification, CE safety certification, THE United States UL certification, the European Union ROHS standard, so as to meet the products in different special occasions and harsh environment can be normal and reliable work.
The company has won the trust of customers all over the world with its continuously enhanced innovation ability, stable quality assurance ability, outstanding customization ability and timely delivery ability. The company's products have been sold in Central Asia, South Asia, West Asia, Southeast Asia, the Middle East, the Americas and other countries and regions.
HENGFENGYOU ELECTRIC GROUP always adhere to carry forward the "integrity, innovation, achievement customer" of the enterprise purpose, to "quality products, the whole heart service" for the business of the team spirit, wholeheartedly for customers at home and abroad to provide excellent products and satisfactory service, is committed to be "Smart Electric Global Service provider" around the world, and sincerely hope to build a future with customers at home and abroad long-term win-win cooperation!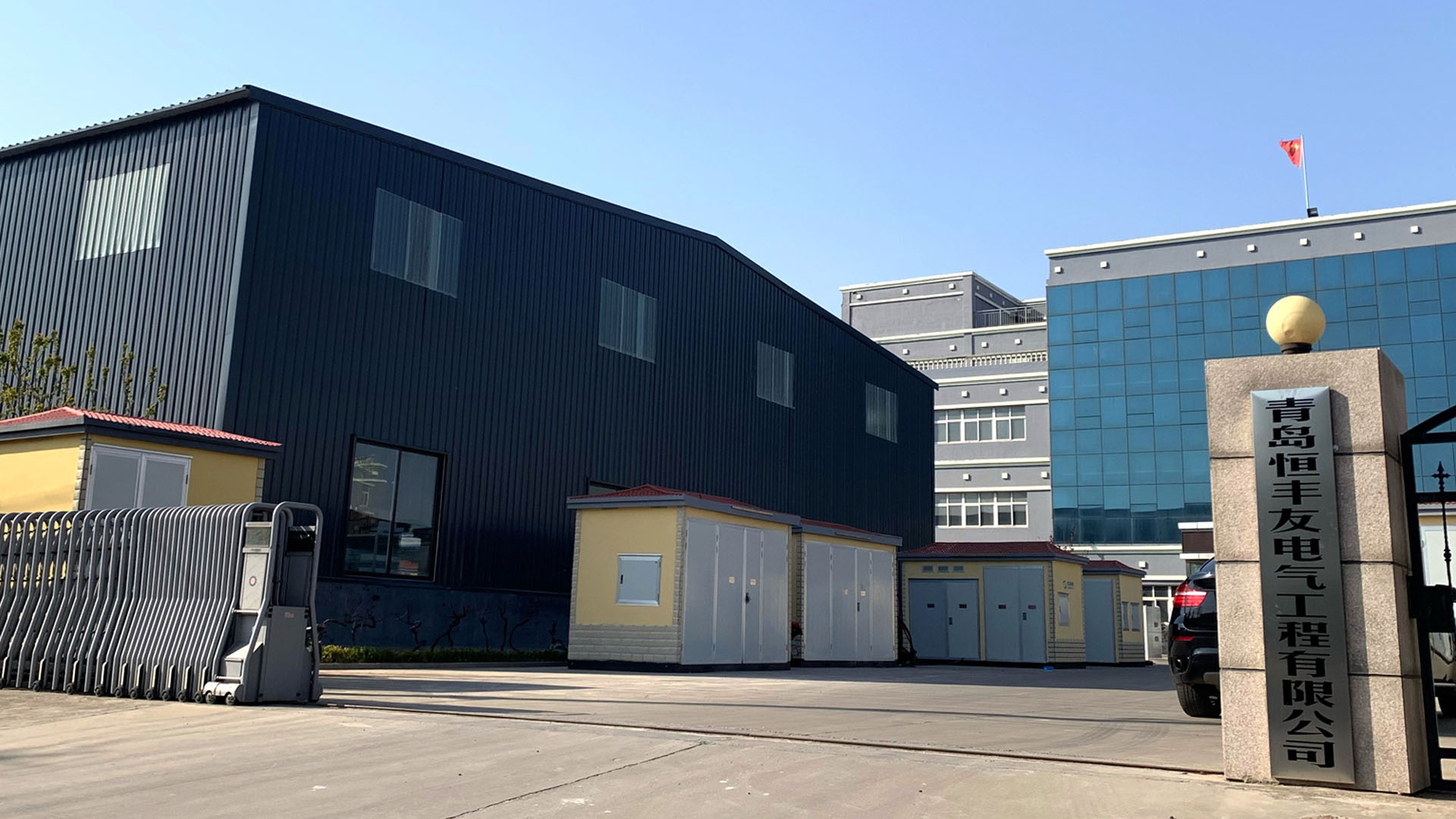 Smart Electric Global Service Provider, Make Life Better!
Qingdao hengfengyou electrical engineering co., LTD
WhatsApp:+86158 5325 2696(Jack) +86158 5326 5269(Alisa)
Tel: +86 532-87936206 Fax: +86 532-87936207
Address: No.506 Huicheng Road, Chengyang Street, Chengyang District, Qingdao City, Shandong Province, China
---

[Hengfengyou Electric Group production base]
Hengfengyou (Qingdao) Transformer Co., Ltd.
Address:Fengju Road, Chengyang District, Qingdao City, Shandong Province,China
Hengfengyou (Qingdao) Transmission tower Co., Ltd.
Address:Shuangyuan Road, Chengyang District, Qingdao City, Shandong Province,China
Hengfengyou (Qingdao) Cable Co., Ltd.
Address:Jifa Longshan Road, Jimo District, Qingdao, Shandong,China
Hengfengyou (Qingdao) Panel Builder Co., Ltd.
Address:Jifa Longshan Road, Jimo District, Qingdao, Shandong,China
Hengfengyou (Yancheng) special transformer Co., Ltd.
Address:Longteng Road, Longgang Town, Yandu District, Yancheng City, Jiangsu Province,China
Hengfengyou (Liaocheng) transformer Co., Ltd.
Address:Fenghuang Industrial Park, Liaocheng City, Shandong Province,China