Product overview

---
-
Lower loss, more energy saving, than SCB11 transformer loss of 35%
-
Actual measurement is better than GB and IEC standards, CB CCC KEMA SASO certification
-
Safer excellent fire performance, F1 class
-
High lightning shock resistance level (95kV for 11kV products)
-
With perfect temperature protection and control system, it can operate under 120% rated load under forced air cooling condition
-
The high reliability verified by global operation has been exported to more than 50 countries and regions
-
It is mainly used in 11KV urban distribution network, power supply and distribution system of industrial and mining enterprises and civil buildings
-
Products are mainly sold to Southeast Asia, the Middle East, Africa, South America and other countries and regions
-
Executive standard: IEC 60076 series, GB1094 series, GB/T6451-2008
-
The shell materials are aluminum alloy, cold rolled steel plate, stainless steel, etc. (protection level IP20, IP23, etc.)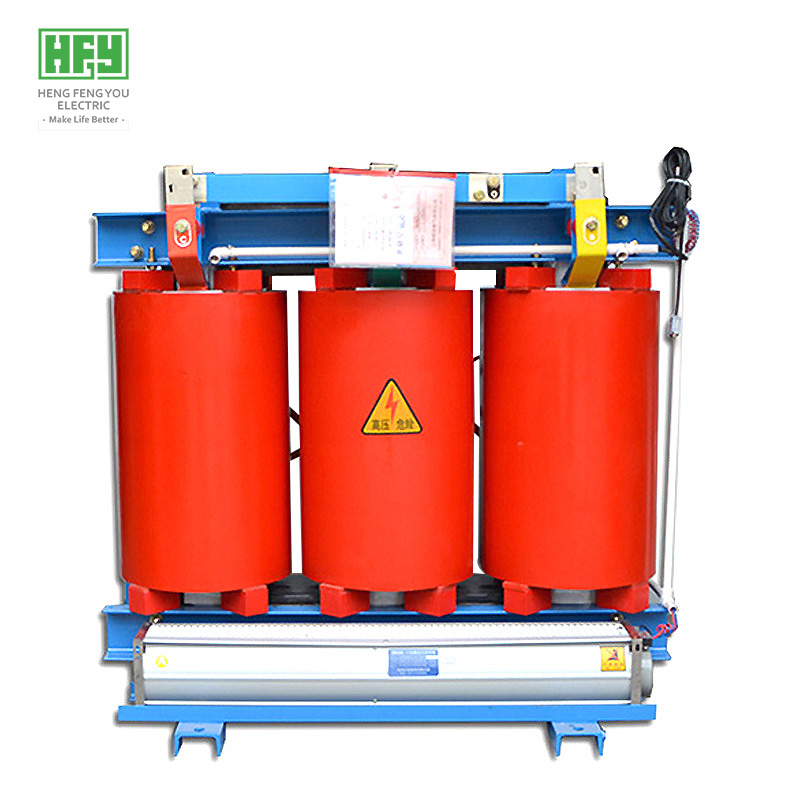 Product advantage
---
>

Leading technology


- High pressure copper strip winding technology, flame retardant formula vacuum pouring
-
Low pressure copper foil winding technology, thermosetting epoxy prepreg cloth insulation
-
High quality iron core 45° fully oblique joint step laminated structure
>
The iron core
-
The core is made of high quality cold-rolled grain oriented silicon steel sheet with mineral oxide insulation
-
By controlling the cutting and stacking process of silicon steel sheet, the loss level, no-load current and noise can be minimized
-
The surface of the assembled core is sealed with grade F or grade H core paint to prevent dust and corrosion
>
Low voltage winding
-
The low voltage winding is made of high quality copper foil
-
The insulation between layers is made of thermosetting epoxy prepreg cloth
-
The ends of the windings are insulated with thermosetting epoxy prepreg cloth
-
Excellent insulation resistance
-
It has very good ability to bear radial stress caused by short circuit
-
The outlet terminal of low voltage winding is tin-plated copper bar
-
The whole winding is placed in the oven and heated to 140°C. After 4 hours of polymerization, it has excellent corrosion resistance to industrial gases
>
High voltage winding
-
Woven with insulated copper wire, and applied by hengfengyou electric exclusive patent technology
-
For small volumes, the high voltage winding uses a linear voltage gradient from top to bottom
-
For large-capacity products, the high-voltage windings are wound by "band winding" technology
-
The application of these methods causes the electric field between adjacent conductors to be very low
-
The transformer has a firm structure during normal operation and transportation
>
High quality material
-
Baosteel, WISCO silicon steel sheet
-
China produces high quality oxygen free copper
-
Swiss Huntsman epoxy resin (with flame retardant filler)
>
Patent technology
-
The high pressure coil is cast under high vacuum, and the casting material system is added with a unique flame retardant filler, which is a patented technology of Hengfengyou Electric.When the transformer is exposed to the flame, the transformer will die out immediately.With a unique and excellent flame retardant characteristics and the ability to adapt to harsh working environment.

Conditions of use
---
-
Altitude less than 1000m, air temperature -25℃~40℃, humidity less than 90% (+25℃)
-
The vertical incline should not exceed 5°, there is no severe vibration place, and the outdoor wind speed should not exceed 35m/s
-
No gas or conductive dust that seriously affects the insulation of the transformer;No explosion hazard, no corrosion of electrical components
-
If the above normal operating conditions are exceeded, customers can customize the solution with our company
Product parameters
---
-
Input voltage: 11kV
-
Output voltage: 0.4kV
-
Capacity: 30-2500 kva
-
Remark: voltage, capacity, frequency, connection group and loss can be customized according to customer requirements
---
-
Main parameters of transformer (voltage, capacity, loss and other main parameters)
-
Transformer use environment (altitude, temperature, humidity, place, etc.)
-
Other customized requirements (tap switch, color, oil pillow, etc.)
-
The minimum order quantity is 1 set, global delivery within 7 days
-
The normal delivery period is 30 days, with fast delivery worldwide
Our advantages
---
-
Authoritative certification: ISO、CE、CB、CCC、SASO、KEMA, etc
-
Perfect SQA quality management system and patented technology to ensure high quality products
-
Efficient production equipment and low raw material prices to ensure the price advantage
-
Sufficient inventory, short delivery time and fast delivery worldwide
-
Perfect after-sales service system, allowing customers to buy worry-free
-
Provide OEM/ODM services. Welcome clients to visit our factory.
额定容量Capacity
额定电压及分接范围Rated voltage&Off-load tapping
联结组标号
Vector
GroupSymbol
空载损耗
NO-load
loss(W)
负载损耗
Load loss(W)
F级绝缘
空载电流
NO-load current(%)
短路阻抗Short
circuit impedance(%)
高压
H.V(kv)
高压分接范围
High pressure
Tap range(%)
低压
L.V(kv)
25 kva
11 10.5
10 6.6
6.3 6
±5%
±2.5%
0.4
0.69

Dyn11
Yyn0
190
710
2
4
50 kva
270
1000
2
4
60 kva
370
1380
1.5
4
100 kva
400
1570
1.5
4
125 kva
470
1850
1.3
4
150 kva
540
2130
1.3
4
200 kva
±5%
±2x2.5%
620
2530
1.1
4
250 kva
720
2760
1.1
4
300 kva
880
3470
1
4
400 kva
980
3990
1
4
500 kva
1160
4880
1
4
600 kva
1340
5880
0.85
4
750 kva
1300
5960
0.85
6
800 kva
1520
6960
0.85
6
1000 kva
1770
8130
0.85
6
1250 kva
2090
9100
0.85
6
1500 kva
2450
11700
0.85
6
2000 kva
3050
14400
0.7
6
2500 kva
3600
17100
0.7
6