Product overview

---
- Low loss, 25% lower than S9 type transformer loss
- The actual measurement of the product is better than GB and IEC standards
- More than 50 countries and regions around the world run verification of high reliability
- It is mainly used in 10KV distribution network, power supply and distribution system of industrial and mining enterprises and civil buildings
- Products are mainly sold to East Asia, Central Asia, Southeast Asia, South Asia and other developing countries and regions
- Executive standard: IEC 60076 series, IEC 6013, IEC 60214-1, IEC 60296;GB1094 series, GB/T6451-2015, GB/T7597-2007, etc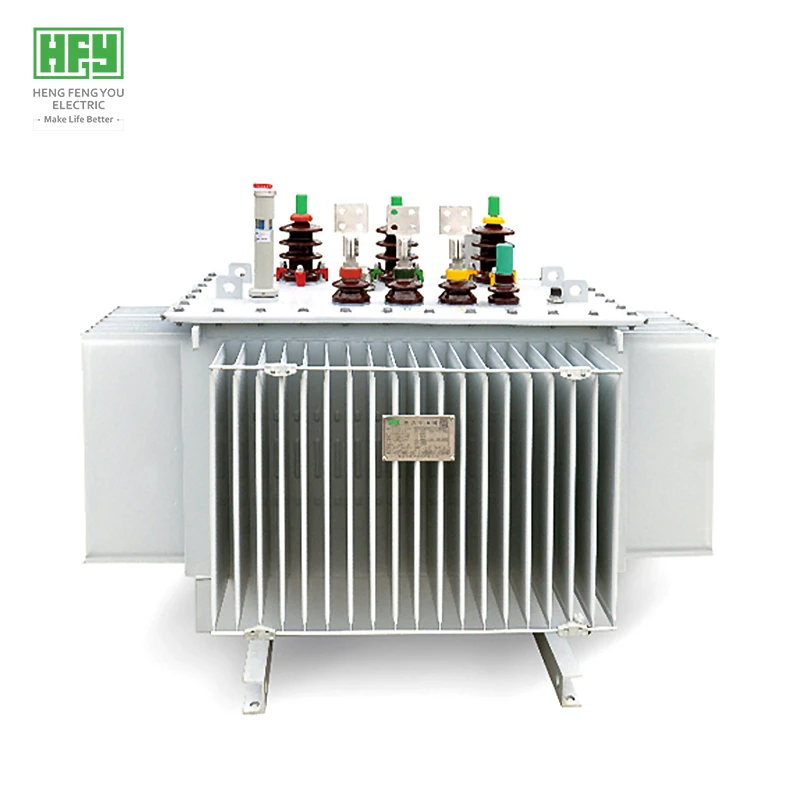 Product advantage
---
-High voltage copper wire winding technology to improve lightning resistance performance
-Low voltage foil winding technology, high-quality A-E grade insulation material insulation
-Low magnetic leakage, high mechanical strength, and strong short-circuit resistance
-The material of the iron core is high-quality cold-rolled grain oriented silicon steel sheets with mineral oxide insulation (from Baosteel and Wuhan Iron and Steel Group in China)
-By controlling the process of cutting and stacking silicon steel sheets, the loss level, no-load current, and noise are minimized

Roduct parameters
---
- Input voltage: 10kV
- Output voltage: 0.4kV 0.415 kv 0.420kv 0.430kv 0.440kv
- Capacity: 30-2500 kva
- Frequency: 50/60 HZ
- Remark: voltage, capacity, frequency, connection group and loss can be customized according to customer requirements
S11

额定容量Capacity

额定电压及分接范围Rated voltage&Off-load tapping
联结组标号
Vector
GroupSymbol
空载损耗
NO-load
loss(W)
负载损耗
Load loss(W)
空载电流
NO-load current(%)
短路阻抗Short
circuit impedance(%)
高压
H.V(kv)
高压分接范围
High pressure
Tap range(%)
低压
L.V(kv)
30 kva
11 10.5
10 6.3
6
±5%
±2x2.5%
0.4
0.415
0.420
0.430
0.440

Dyn11
Yyn0
100
630/600
1.5
4
50 kva
130
910/870
1.3
4
63 kva
150
1090/1040
1.2
4
80 kva
180
1310/1250
1.2
4
100 kva
200
1580/1500
1.1
4
125 kva
240
1890/1800
1.1
4
160 kva
280
2310/2200
1
4
200 kva
340
2730/2600
1
4
250 kva
400
3200/3050
0.9
4
300 kva
480
3830/3650
0.9
4
400 kva
570
4520/4300
0.8
4
500 kva
680
5410/5150
0.8
4
630 kva
810
6200
0.6
4.5
800 kva
980
7500
0.6
4.5
1000 kva
1150
10300
0.6
4.5
1250 kva
1360
12000
0.5
4.5
1600 kva
1640
14500
0.5
4.5
2000 kva
1940
18300
0.4
5
2500 kva
2290
21200
0.4
5

Case show
---

Business Cooperation
---
Grow business with Hengfengyou
Our goal is to become the world's leading manufacturer of electrical equipment. The business, experience and technology accumulated over the years have benefited customers in more than 50 countries around the world. Once our customers establish a cooperative relationship, they are long-term trusted customers, because Hengfengyou always insists on providing you with our best electrical products and services.


Our advantages
---

- Authoritative certification: ISO9001、CE、CCC、COC、UL、CSA, etc
- Perfect SQA quality management system and patented technology to ensure high quality products
- Efficient production equipment and low raw material prices to ensure the price advantage
- Sufficient inventory, short delivery time and fast delivery worldwide
- Perfect after-sales service system, allowing customers to buy worry-free
- Provide OEM/ODM services. Welcome clients to visit our factory.