HENGFENGYOU steel tower company is subordinate to HENGFENYOU GROUP. Main products: power structure, power angle steel tower, power steel pole, lightning tower, communication tower, street lamp pole, etc gantry, etc. it is an export-oriented enterprise focusing on steel tower design and production.
Hengfengyou Electric is a high-quality supplier of China Tower Corporation, three major operators of China Telecom and China State Grid. The products have been exported to more than 50 countries around the world, and have successfully served many national grid customers around the world, meeting the needs of customers for various types of towers. By 2020, Hengfengyou Electric has exported 58700 tons of steel towers in total.
132kv monopole transmission tower,220kv monopole transmission line tower,33kv monopole electric tower,monopole transmission tower, monopole transmission line tower, monopole tower 132kv, monopole tower for transmission line, monopole electric tower, tubular steel pole tower.ISO excellent certifier.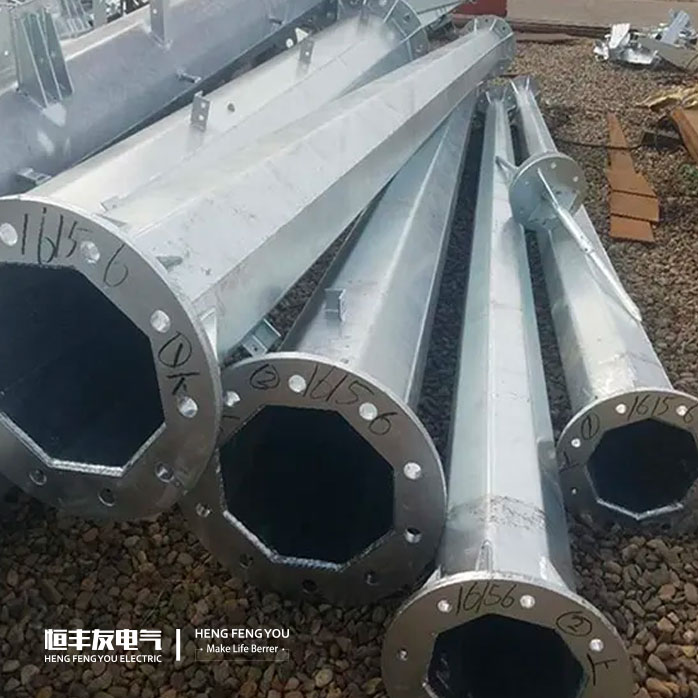 Hengfengyou Tower can provide the following transmission towers of voltage levels:

11KV
Galvanized Transmission tower
33KV Galvanized Transmission tower
35KV Galvanized Transmission tower
66KV Galvanized Transmission tower
110KV Galvanized Transmission tower
132KV Galvanized Transmission tower
230KV Galvanized Transmission tower
275KV Galvanized Tran smission tower
400KV Galvanized Transmission tower
500KV
Galvanized Transmission tower

Our advantages
1. We have formulated strict workflow and ISO standards in all aspects of electrical product design, production, sales and after-sales, so as to ensure to provide customers with first-class products and best services
2. ISO certified excellent manufacturer, third party authoritative certification: SGS
3. The factory has completed thousands of engineering cases so far, and has rich experience and holiday technology reserves;
4. High quality supplier of State Grid of China;
5. With a strong team to ensure delivery on schedule, you can choose with confidence.
Develop business with HENGFENGYOU ELECTRIC
Our goal is to become a world leading manufacturer of power transmission and distribution equipment. The business, experience and technology accumulated over the years have benefited customers in more than 50 countries around the world. Once our customers have established a cooperative relationship, they are long-term trusted customers, because hengfengyou always insists on providing you with our best electrical products and services.