Iranian local oil extraction enterprises come to Hengfengyou Electrical Engineering Co.,Ltd to check and accept the customized 20kV oil-immersed transformer
Writer: Hengfeng you electric Time:2023-07-17 views:times
On July 12, 2023, three customers from a local oil extraction enterprise in Iran visited Hengfengyou Electrical Engineering Co.,Ltd for an inspection. Jack, the sales director of Hengfengyou Electrical Engineering Co.,Ltd, received the entire process, and the Iranian customer Hengfengyou Electrical Engineering Co.,Ltd inspected the second batch of 12 set 20kV-2500kva oil immersed transformers customized for them. The purpose of this inspection is to ensure that the quality of the power transformers meets the customer's requirements and explore future cooperation opportunities between the two parties.

The 26 set 20kV oil immersed transformers provided by Hengfengyou Electrical Engineering Co.,Ltd are customized according to the actual needs of customers and have the following characteristics:
Model: 20/0.4kv-2500kva oil immersed transformer;
Main materials: high-quality cold-rolled silicon steel sheet, T1 pure copper coil, B-grade high-temperature insulation material.
Impedance voltage: 7%; Connection group: DYN5; Temperature rise: 55/50 ℃
Special customization: Install protection box for high and low voltage bushings

These transformers have performed well in performance testing and fully meet the needs of Iranian customers. In addition, Hengfengyou Electrical Engineering Co.,Ltd also introduced the production and manufacturing process and quality control system of transformers. Hengfengyou Electrical Engineering Co.,Ltd adopts advanced production equipment and strict quality control standards to ensure that each transformer meets the relevant electrical standards and customer needs of Iran, "said Olivia, sales manager of Hengfengyou Electrical Engineering Co.,Ltd.

1.In terms of manufacturing technology, Hengfengyou adopts a high-temperature vacuum drying process, effectively improving the insulation and explosion-proof performance of power transformers. At the same time, Hengfengyou Electric has also introduced an online monitoring system to monitor key links in the production process in real-time, ensuring the consistency of product quality.

2. In terms of quality control, Hengfengyou Electric has established a comprehensive quality management system, strictly controlling every step from raw material procurement, component processing to product delivery. The quality inspection of Hengfengyou Electric covers multiple aspects such as appearance, performance, and reliability, ensuring the stable operation of power transformers in oil extraction enterprises.

3.In addition, Hengfengyou Electric will also maintain close cooperation with customers and provide comprehensive after-sales service and technical support to meet their growing needs. Through this inspection and acceptance, Hengfengyou Electric believes that local Iranian oil mining enterprise customers have fully understood the performance and advantages of the 20kV-2500kva oil immersed transformer customized by Hengfengyou Electric. At the same time, Hengfengyou Electric has also gained recognition and trust from customers, laying a solid foundation for future cooperation between both parties.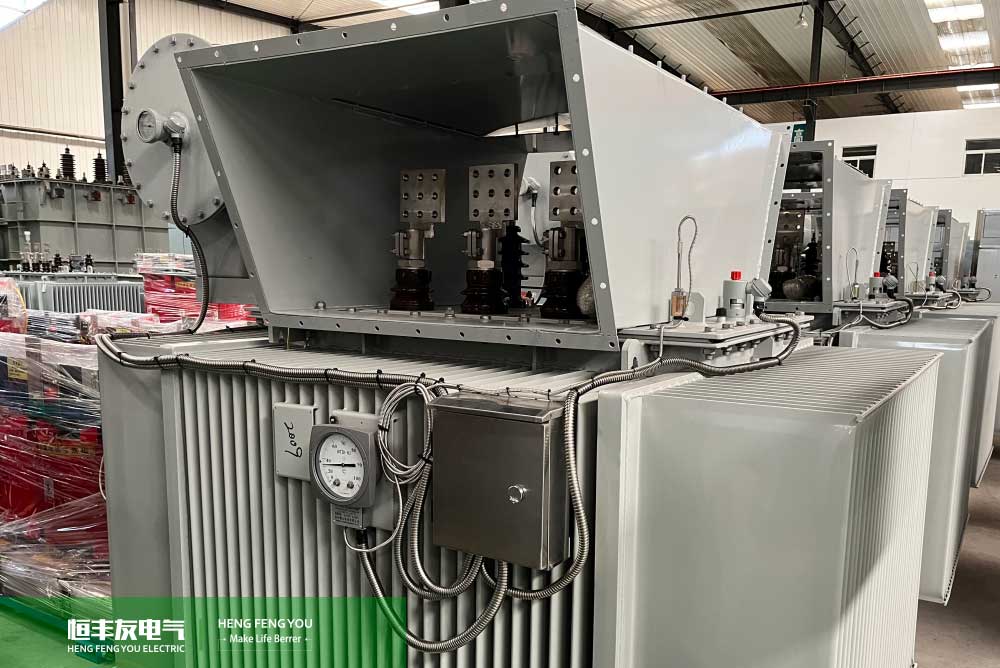 4. Looking forward to the future, Hengfengyou Electric believes that this type of power transformer has a broad application prospect in Oil reserves in Iran's oil exploration industry. According to the Iranian government, the energy industry in Iran has developed rapidly and achieved tremendous achievements. Currently, the recoverable crude oil reserves are over 154 billion barrels, and the natural gas reserves exceed 33 trillion cubic meters, both ranking first in the world. Therefore, power transformers with excellent performance and reliable quality will help to improve the production efficiency and safety of Oil reserves in Iran's oil exploration enterprises, reduce operating costs, and further improve Oil reserves in Iran's share and position in the international market.

In summary, the success of this inspection and acceptance indicates that Hengfengyou Electric's electrical products will continue to play an important role in the international market. Hengfengyou Electric will continue to work hard to provide customers with better quality transmission and distribution products and high-quality after-sales services, making greater contributions to the development of the global oil extraction industry.