Product overview

---
- Electric furnace transformer is a professional transformer which is planned according to the working principle, load characteristics and operation characteristics of various electric furnaces
Specifically include: steel-making arc furnace transformer, ladle refining furnace transformer, slag furnace transformer, ore heating furnace transformer, frequency furnace transformer and other communication furnace transformer and medium frequency induction furnace transformer, silicon carbide, graphitization furnace transformer and other DC furnace transformer.
- Industrial furnace transformers are mainly divided into three categories: resistance furnace transformers, arc furnace transformers and induction furnace transformers
Hengfengyou furnace transformer production standards: one type is according to the current Chinese standards of production planning of the standard furnace transformer;
The other is a new type of energy-saving electric furnace transformer developed and manufactured on the basis of Chinese standard electric furnace transformer
· Used for smelting high quality alloy copper and ferroalloy in metallurgical industry
· In the chemical industry, it is used to produce yellow phosphorus, calcium carbide, synthetic resin, etc
· Used for melting cast steel and cast iron in machinery industry
- High reliability of operation verification in more than 50 countries and regions around the world
- Products are mainly sold to East Asia, Central Asia, Southeast Asia, South America, North America and other markets and regions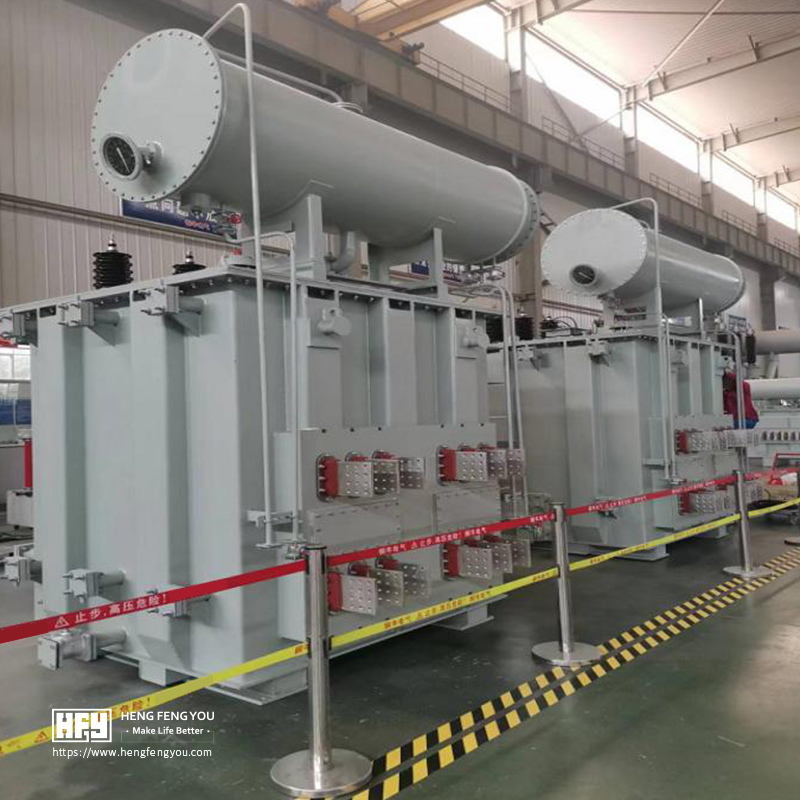 Product advantage
---
>

Leading technology
- Large capacity, low loss, more energy saving, the actual measurement is better than GB and IEC standards
- High voltage copper strip winding technology, improve lightning resistance
- Low voltage copper foil winding technology, high quality A class insulation material insulation, higher temperature resistance grade
- Small magnetic leakage, high mechanical strength, strong resistance to short circuit
- Core 45° fully oblique joint stepping laminated structure
- Japanese Mitsubishi laser cutting machine and CNC punching, reducing, folding and other equipment to ensure the accuracy of processing
- ABB robot automatic welding, laser detection, to avoid leakage, pass rate of 99.99998%
- Electrostatic spray treatment, 30 years not take off the paint (coating corrosion resistance within 100h, hardness ≥0.4)
- Fully sealed structure, maintenance-free, normal operation life of more than 30 years
- The core is made of high quality cold-rolled grain oriented silicon steel sheet with mineral oxide insulation (from Baosteel and WISCO of China).
- Minimize the loss level, no-load current and noise by controlling the cutting and stacking process of the silicon steel sheet
- The iron core is specially reinforced to ensure the structure of the transformer is firm during normal operation and transportation
- The low voltage winding is made of high quality copper foil, excellent insulation resistance
- The high-voltage winding is usually made of insulated copper wire, using the patented process technology of Hengfeng You Electric
- Very good resistance to radial stress caused by short circuit
- Baosteel and WISCO produce silicon steel sheets
- China produces high quality oxygen-free copper
- CNPC (Kunlun Petroleum) High quality transformer oil (25# 40#)
- Thanks to the patented technology of "ultra-low loss energy-saving power transformer" of Hengfengyou Electric, the material can be saved by 5%, and the loss of the transformer can be reduced by 10-20% compared with similar products in the market, which is more energy saving and environmental protection.
Conditions of use
---
- Altitude less than 1000m, air temperature -25℃~40℃, humidity less than 90% (+25℃)
- The vertical incline shall not exceed 5°, there shall be no severe vibration, and the outdoor wind speed shall not exceed 35m/s
- No gas or conductive dust that seriously affects the transformer insulation;
No explosion hazard, no corrosion of electrical components
- If the above normal operating conditions are exceeded, customers can contact our company for customized solutions
Product parameters
---
- Remarks: Voltage, capacity, frequency, connection group and loss can be customized according to customer requirements
(Table parameters are attached below)
Ordering instructions
---
- Main parameters of transformer (voltage, capacity, loss and other main parameters)
- Transformer use environment (altitude, temperature, humidity, location, etc.)
- Other customization requirements
- Normal lead time is 30 days
- Fast worldwide delivery
Our Advantages
---
- Authoritative certification: ISO, CE, CB, CQC, etc
- Perfect SQA quality management system and patented technology to ensure high quality products
- Efficient production equipment and low raw material prices ensure the price advantage
- Adequate inventory, short lead time, fast delivery worldwide
- Perfect after-sales service system, so that customers buy worry-free
- Welcome customers to visit our factory and provide OEM/ODM service